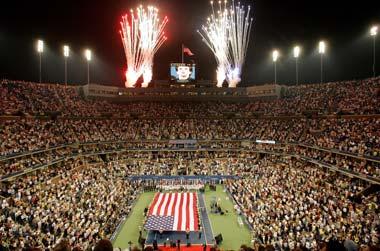 The US Open has begun with fireworks.
The event started off by honouring Billie Jean King who has won 12 Grand Slam singles titles, 14 Grand Slam women's doubles titles, and 11 Grand Slam mixed doubles titles. She is generally considered to be one of the greatest female tennis players and female athletes in history. The USTA National Tennis Center was officially renamed the USTA Billie Jean King National Tennis Center in a special on-court ceremony during Opening Night festivities of the 2006 US Open in Arthur Ashe Stadium.
This US Open will also be remebered for Andre Agassi's farewell bringing a great champion's twenty year tennis career to a close.
On Monday night, Agassi managed to win the first match of his final tournament, coming back to beat Andrei Pavel, 6-7 (4-7), 7-6 (8-6), 7-6 (8-6), 6-2, before an Open-record night session crowd of 23,736.
For Agassi fans, they know that each step that he takes forward here may also be his last. It must be physically and mentally exhausting for the 36-year old Agassi who has brought so much fun and joy to his fans during his long career.