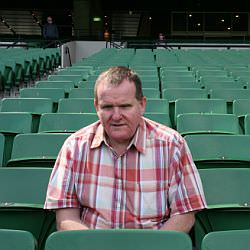 This is an an
inspirational story
of a person's passion. Andy Gemmell who grew up in north London was interested in sport. He could talk about it all night.
Andy went to rock concerts or football matches like other patrons from the pub where he frequented, only more often.
He was a volunteer at the Islington branch of Britain's Labour Party. Besides having a bit more substance to his opinions than the other drinkers, the main difference between Andy and the rest was that Andy was blind.
Andy, who is 54, is in Australia on a long holiday during which he's going to the cricket and the races, and catching up with friends.
Andy says he's always been entranced by sport. His interest began during the English cricket team's tour of Australia in 1958–59, when he was six.
His fanaticism for sport led him to lie in bed at boarding school—he went to a school for the blind—with his radio under the pillow, listening to broadcasts of title fights from the United States.
He listened to the great fights of the 1960s between heavyweight champions Floyd Patterson, Sonny Liston and Muhammad Ali.
When asked whether his blindness frustrated him as a child, Andy says yes, of course it did. He had to learn to accept it.
Part of his acceptance was promising himself he would live life to the full. "You've just got to do it," he says. "You don't get a second chance."